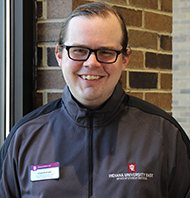 Chase Eversole
Online Student Success Coach
Email:

Phone:

765-973-8445

Office:

Whitewater Hall 111
Hello! My name is Chase Eversole, and I'm an Online Student Success Coach with the Office of Student Success. My aim is to help you navigate IU East's online systems and achieve your academic and personal goals. I graduated with honors from IU East in 2015 with a B.A. in English. I took many classes online while also working and being heavily involved on campus.
From 2012 to 2016 and from 2019 to 2020, I worked as a Writing Consultant for the IU East Writing Center, where I assisted both campus-based and IU Online students with their writing. Additionally, I worked as a Course Assistant and a Research Assistant for IU East English Department faculty from 2013 to 2015. As an undergraduate, I served as President of the Alpha Omicron Epsilon chapter of Sigma Tau Delta (National English Honors Society), and I served as Editor-in-Chief and Copy Editor for Tributaries, IU East's student-produced creative arts journal. It was during my time as an undergraduate that I developed a passion for helping students and decided to pursue a career in higher education/student affairs. I am excited to be a part of the Office of Student Success and continue my career with IU East!
Outside of work, my biggest passions are reading, writing stories, and writing music. I've been playing guitar for a decade, and I recently began playing piano/synthesizers. I have published several short stories, poems, and essays online. I have also written and released two albums of original music. I live in Richmond, Indiana with my wife, Emily O'Brien, who is also an IU East alum. I also enjoy watching baseball (I'm a Cincinnati Reds fan) and soccer.
I am looking forward to working with you! Please don't hesitate to contact me with any questions or concerns you may have.